Chateau du Moulin A Vent
Couvent des Thorins 2015
Chateau du Moulin-A-Vent gained its name from a windmill that sits atop the hill of "les Thorins." Steeped in 3 centuries of tradition, (dating back officially to 1732), the chateau is located in the southernmost tip of the Burgundy region.
Upon opening a bottle of the 2015 Couvent des Thorins, you'll take in it's fragrant bouquet of raspberries, and savor its fresh dark fruit flavors under supple ripe tannins.
2015 was a great year for the vineyard producing some incredible fruit cultivated from 40 year old gamay noir vines. This bottle is ready to drink now on its own, or at your next celebratory meal.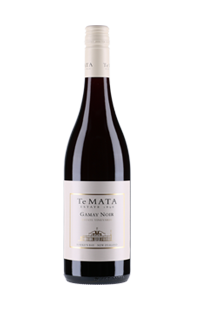 Te Mata
Gamay Noir 2016
Te Mata Estate began in 1896 and is a prime example of New Zealand's uniquely diverse terroir.
Made with 100% gamay noir, this vintage will exude rich fruit intensity and body unlike the typically lighter-bodied wines produced in France's Beaujolais region.
Soft tannins and juicy, ripe cherry & cranberry flavors blanket the palate while cinnamon and licorice provide hints of spice.
An all around crowd pleaser, pair this bottle with something spicy, (it can even be slightly chilled!).