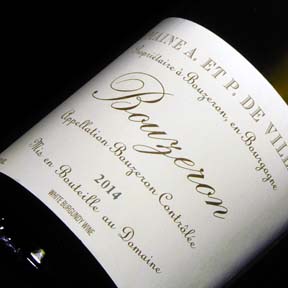 Domaine A. et P. de Villaine
Bouzeron Village Aligote 2015
Domaine A.P de Villaine is located in the southern Burgundian commune of the Cote Chalonnaise in the town of Bouzeron. The domaine was founded in 1971 by Aubert de Villaine of Romanee Conti and is wife Pamela after returning from living in New York. The off the beaten path location of Bouzeron provided Aubert the opportunity to be away from the clouds of international expectations. Today the domaine is under the stewardship of Aubert's nephew Pierre de Benoist.
The monks from the abbey de Cluny were the first to plant vines on the slopes of Bouzeron in the 12th century. This heritage is preserved today by the producers who have holdings in this small enclave. In Bouzeron vines are exclusively planted on the slopes and the nutrient poor limestone soils results in controlled yields and the microclimate provides enough warmth to encourage grape ripeness. Bouzeron produces the best Aligote in Burgundy and is the only Aligote AOC in the Region. Aligote produces wines that are dry, delicate, elegant wines that has a roundness which gives the wines a long finish. With soft citrus notes and hints of honeysuckle and a soft brightness that makes these wines the perfect fall wine.Pair this wine with roasted chicken and lots of roasted fall veggies.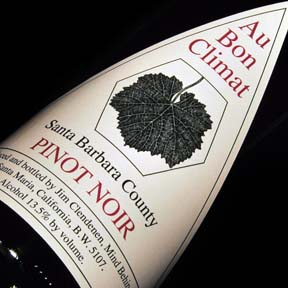 Au Bon Climat
Pinot Noir 2016
The Chave family, based in Northern Rhone, has been growing vines since the late 1400s. Today the tradition of vine growing and wine making continues with Jean Louis Chave. It was Jean Louis' father, Gerard, who helped bring megastar status to the Chave wines due to the extraordinary quality of the wine he was producing. It is in Gerard's footsteps that Jean Louis has followed, elevating the JL Chave wines to benchmark examples of Rhone Valley wine. The Saint Joseph Offerus is both a muscular and elegant expression of Syrah. Hints of wood smoke and spice combine with blackberry and olives along with a subtle floral nuance. The wine is complex and layered and will continue to change and evolve in the glass as it breaths and opens up. Certainly a bottle worthy of the complex flavors of a traditional Thanksgiving dinner. This will pair well with turkey and gravy, stuffing, cranberry sauce, and every other dish that adorns your holiday table.