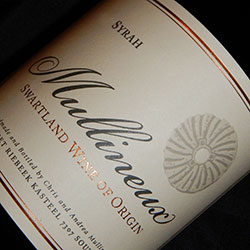 Mullineux
Syrah 2012
Chris and Andrea Mullineux established their label in 2007 and have reached such great heights in quite a short amount of time. Andrea was named Wine Spectator's 2016 Winemaker of the year, for her efforts to "revolutionize a region" and drive to be a better winemaker.
Located in The Swartland, a literal bread basket in the Western Cape of South Africa, the label has quickly become one of the country's most celebrated brands. Granite, Shale, and Iron based soils give Mullineux wines the complexity and uniqueness wine lovers near and far have grown to enjoy in the brand's young lifetime.
Mullineux's 2012 Syrah has plenty of body and a silky texture balanced by a fresh, natural acidity. Notes of spicy citrus rind, refined black fruit, violets and lilies fill the bouquet. Decant and enjoy within the first 3-5 years after bottling.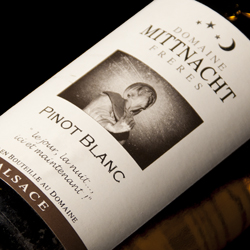 Domaine Mittnacht Freres
Pinot Blanc 2013
The Mittnacht family has been producing wines for 3 generations across the best terroirs in Hunawihr, Ribeauvillé and Mittelwihr. Their high-expression wines reflect the family's passion for winemaking and care for natural practices in cultivating their fruit. This philosophy of respecting the land and the natural course of winemaking is a part of the Alsatian way and is best exemplified in the 2013 Pinot Blanc. Fresh aromatic and floral notes of lychee fruit on the nose. Nice salinity is rounded by a hint of caramel on the finish. Best enjoyed chilled with roast duck!