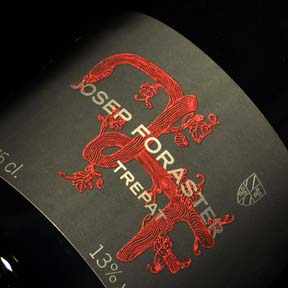 Mas Foraster
Josep Foraster Trepat 2014
The world's Trepat production is limited to 1500 hectares in Catalonia, the fruit of which is used mostly in cava and light-bodied rose blends; to produce a single-varietal Trepat wine, let alone an age-worthy fine wine, is unheard of. The Foraster estate possesses some of the oldest Trepat vines in the region, and therefore decided to honor the varietal with this expression, which ages in new and used French oak barrels for about half a year prior to bottling. The result has been compared by many to Pinot Noir, and its nose of cherries and plums, earthy yet subtle secondary aromas, and light hue make Burgundy the obvious reference point, although the Trepat possesses a slightly funkier, meatier nose than any Pinot, inviting pairings with fattier fare like soft cheeses, rich seafood dishes, and all kinds of red meat.
Chateau de l'Eperonnière
Cremant de Loire 2012
Chateau de l'Eperonniere has been in the family for many generations, with vineyards sited on both sides of the Loire River overlooking the Layon. Mathieu and his wife Charlotte, have renovated this spectacular property, respecting traditional architecture, in fact one of their wooden ceilings in the chai dates back to the thirteenth century! This aromatic and expressive Cremant is a blend of 80% Chenin Blanc 5% Chardonnay and 5% Cabernet France. A fine mousse with notes of yellow apple that fill the midpalate. A great bright Cremant to enjoy to welcome spring!