Domaine Marcel Deiss
Alsace Blanc 2014
Located in the scenic commune of Bergheim, Alsace, Domaine Marcel Deiss is one of the leading producers of terroir driven wines. Organically farmed over 20 years and biodynamic since 1998, the domaine was established in 1947 by the grandfather of the current owner, Jean-Michel Deiss. Today, the estate continues to produce site-specific blends of great character. The Marcel Deiss Alsace Blanc is produced annually from 13 Alsatian grapes, grown, and pressed together. This entry bottling from Deiss gives a glimpse of what his top tier Grand Cru vineyards could produce! Full of minerality and a wide range of flavors from apples to pears and apricots. The palate is soft and velvety, finishing perfectly balanced and harmonious, this is one of my favorite easy drinking whites any time of day.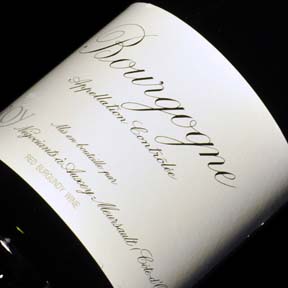 Leroy
Bourgogne Rouge 2003
Domaine Leroy may produce the greatest red Burgundy wines today, with Grand Cru holdings in Richebourg, Chambertin, Romanee-Saint Vivant, Clos de Vougeot, her wines easily sell for $1,000 or more! Lalou Bize-Leroy started out as a negociant working for her family Maison Leroy, learning everything from her father Henri Leroy. Lalou is also part owner of the famous Domaine de la Romanee-Conti, one of the most expensive wines in the market today. The vineyards are managed biodynamically and everything is done by hand, from severe pruning to crop-thinning, resulting in very low yields. The Leroy Bourgogne Rouge 2003 exhibits mature notes of dried leaves, leather and sandalwood. The palate has a touch of red fruit, earth and mushroom, a perfectly aged Bourgogne ready to drink today.