Faiveley
Mercurey Village "Clos Rochette" Domaine Monopole 2013
Domaine Faiveley, one of the longest-running negociants and family-owned production houses in Burgundy, works all over the region, from the highest-tier Grand Cru vineyards to the most basic village sites. Under the direction of Erwan Faiveley, who took over in 2007, the Domaine has adopted a less extracted style and changed its cooperage, permitting subtler, more judiciously integrated tannins. Sourced from Clos Rochette, a small monopole in Mercurey worked exclusively by Faiveley and known for dense, rocky soils, this Burgundy shows white flowers, apple, melon, and subtle spice on the nose, with light oaking lending a supple yet rounded mouthfeel that gives way to a long, mineral-inflected finish. This graceful white will continue to improve in bottle for five to seven years, but there's no need to bide your time! Go traditional and pair with fish or poultry.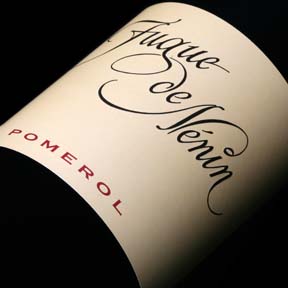 La Fugue de Nenin 2005
Chateau Nenin, one of Pomerol's largest estates, boasts 32 hectares under vine on gravel, clay and sandy soils. Since purchasing the estate in 1997, the Delon family, also proprietors of Chateau Leoville Las Cases and Chateau Potensac, has worked tirelessly to improve quality in the vineyards and the cellar. Their second label, a Merlot-dominant blend, comes from the property's younger vines. A smooth and approachable Bordeaux with cedar, berry and earth at the forefront, Fugue de Nenin boasts a soft yet lingering finish, and the
2005 is at its peak right now. Savor it with steak, grilled lamb chops or roast duck.