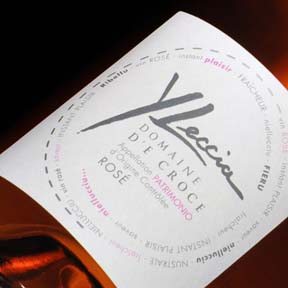 Yves Leccia
Patrimonio Rose 2015
Yves Leccia has made wine in Patrimonio, Corsica for over 30 years, and his ancestors have done so as far back as anyone remembers. Yves Leccia focuses on a particular plot of land within Patrimonio called 'E Croce' that boasts a thin layer of chalk over schist. A notorious perfectionist, Yves Leccia tends the vines himself and produces his wines with minimal assistance.  His Patrimonio Rose of Nielluccio (likely synonymous with Sangiovese or closely related) is fermented in stainless steel and offers a minerality reflective of the soil type, as well as a richness of flavor and texture that's all from the grapes themselves. It offers notes of strawberries with a hint of earth at the back end. A versatile Rose that can stand up to serious food or be enjoyed without accompaniment on a sunny afternoon.  Try it both ways!
Descendientes de J. Palacios
Petalos 2013
Since the early 90s, Alvaro and Ricardo Palacios have worked to elevate the status of the lesser-known Bierzo region in Northwest Spain and its native Mencia, a grape that has recently won international acclaim for its quality; Mencia can be full-bodied and earthy or fruity and light, takes well to oak, and possesses enough acid for serious aging. Bierzo, with its hot days and cool nights, is the ideal climatic medium between verdant Galicia and barren inland Spain. Mencia had been planted to valley floors and over cropped; the Palacios reclaimed old vines on steep inclines. Petalos, their entry-level Bierzo made up of 98% Mencia, is meaty yet elegant, with a generous, fruity bouquet of raspberry and cherry, spicy tannins from barrel-aging in French oak, savory notes of olives, earth and great acidity. Pair with traditional Spanish tapas, jamon iberico or anything showcasing pungent, salty flavors.