Lopez de Heredia Vina Gravonia Rioja Blanco and Oddero Barolo Villero
Lopez de Heredia
Vina Gravonia Rioja Blanco 2004
Lopez de Heredia is one of the benchmark wines in the world. This amazing 137 year-old winery is in the hands of the 4th generation winemaker, the elegant Mercedes Lopez De Heredia. The Vina Gravonia is made from the Viura grape and has multiple layers of aromas and flavors such as orange, citrus, vanilla and cloves with a wonderful sherry-like touch backed by a freshness and energy belaying this youthful 10 year old. A glimpse into the 8 other fabulous wines made by this historic vintner and a fascinating trip into a glass of exemplary aged wine for a comparable pittance. Pair this exceptional bottle with paella or mushroom risotto.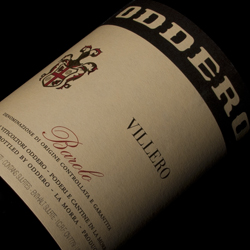 Oddero
Barolo Villero 2006
Giacomo Oddero is a fountainhead of not just producing traditional Piedmont wines but, also of protecting and promoting the food, cheese and truffle, Hazlenuts and the water of the region. His wonderfully named daughters Mariacristina and Mariavittoria now run this, at minimum, 150 year old estate.
This 2006 is finally starting to show it's potential with it's earthy, tar and licorice balancing the strawberry bitters that can show up in truly old school Barolo. Break this out with the white truffles to blow a few minds at dinner with either braised or stewed game or beef like the Odderos' will do when you visit historic La Morra!