The De Forville family immigrated to Italy from the Wallonia region of Belgium in 1848. However, the De Forville winery was founded in 1860 by Gioacchino de Forville in the heart of the village of Barbaresco. A dedicated follower of the teachings of celebrated oenologist Domizio Cavazza of Royal Oenological School of Alba, Gioacchino was dedicated and focused on quality. One hundred and fifty years and five generations later, the de Forville family, led by Paolo and Valter Anfosso, continues in his footsteps. Producing wines that celebrate the regional heritage and come "from the heart," De Forville is known for its classic Italian wines.
Despite owning 27 acres of land nestled in the communes of Barbaresco and Castagnole Lanze, De Forville supplements the annual harvest with grapes purchased from nearby family vineyards, many of whom the De Forville family has worked with for generations. Originally producing only bulk wines sold to restaurants and retailers, the estate sold its first bottle of wine in 1940. Today, however, bottles make up the vast majority of sales, much to the delight of critics and wine enthusiasts alike.
Blending tradition and technology, Paulo and Valter seek to produce wines with personality. Firmly believing quality starts with care in the vineyards, the grapes are hand harvested before being fermented in stainless steel tanks. The white wines then rest in stainless steel while the reds are aged in oak. The same careful attention is devoted to international grapes, such as the Piedmont Chardonnay, as to those indigenous varietals grown on the family land. Resting on the skins and lees, under strict temperature controlled conditions, the wines develop character, finesse and depth. The Italian classics produced by De Forville are "wines with personality" that can be enjoyed by all.
Barbaresco 2011 D.C.O.G.
Barbera d'Asti 2012 D.O.C.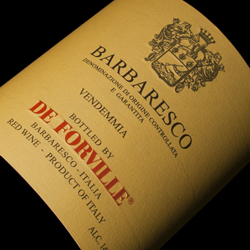 Made from 100% Nebbiolo this wine forms the backbone of the De Forville range. Racked several times before resting a minimum of two years in barrel, this wine has a medium-body that is well balanced with texture and tannins. Notes of dark cherry and leather are complimented by earth and soft rose. This ruby red wine is dry and round, pairing well with red meat, game and ripe cheeses. Open one hour before drinking to allow the best aromatic expression.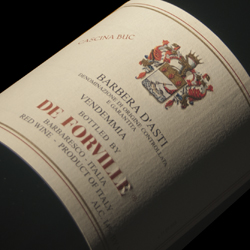 This 100% Barbera from the Asti region is ready to drink. Full and round with balanced acidity and freshness, the palate delivers seductive notes of blackberry, spice and toastiness. Rustic and earthy despite its bright ruby red robe, this wine is versatile and pairs with everything from pasta and cheese to red meat and game.