The Zamo family love affair with wine began in 1924 when Luigi Zamo opened an osteria at Manzano, a small town in the heart of the Friuli region. Growing up serving local wine to customers, his son Tulio was inspired to make his own wine under the label Le Vigne di Zamo. He realized his dream in 1978 when he purchased 5 hectares (about 12 acres) of prime vineyard on the slopes of Rocca Bernarda; terroir acknowledged as the historic heartland of premium wines from Friuli. In the 1990's seeking to expand upon both quality and variety, Luigi began working with famed oenologist Franco Bernabei and was rewarded with immense critical acclaim. In fact, their wines have been awarded the coveted Italian wine award Tre Bicchieri, or "Three Glasses" from Gambero Rosso, producer of the Vini d'Italia guide, more than ten times.
Growing rapidly by purchasing additional vineyard plots or establishing long-term leases, today Le Vigne di Zamo produces amazing wines from 55 hectares (136 acres) of vineyards spread across three distinct terroirs: Rosazzo, Buttrio and Rocca Bernarda. In addition, a thoroughly modern underground cellar and renovations on the historic farmhouse were completed in the early 2000's. These modernized facilities provide the base where Luigi, working closely with his sons, Silvano and Pierluigi, strives to produce quality wines with genuine personality. While they do produce extraordinary wines from international grapes, they wholeheartedly embrace local varietals, always seeking to transcend the customary flavor profiles. Whether stunning red wines made from the little-known Schioppettino or inspiring whites made from the well-known Pinot Grigo, the wines produced by Le Vigne di Zamo are a stunning taste of the best Italy has to offer.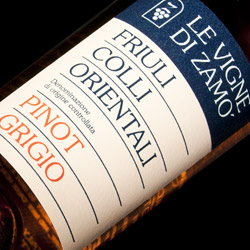 This unusual Pinot Grigio is a stunning coppery almost pinkish color, the result of an unusual vinification process. After a manual harvest the grapes are half-destemmed and separated. One half of the crop is cold macerated in stainless steel tanks while the other rests on its skins for 4 days in oak vats before being aged on the lees. The resulting wines are then mixed to deliver this amazing wine. Firm without being heavy or flat the lingering palate is defined by savoury acidity and a pleasing hint of ripe tannins. With a slightly oily texture and aromatic notes of yeast and crusty bread, this wine pairs well with shrimp, crab and scallops while also holding up to rich butter flavors of risotto or creamy pasta.