Ermes Pavese Blanc de Morgex et de la Salle and Miravel Pinotage
Ermes Pavese
Blanc de Morgex et de la Salle
All one needs to do is look at this bottle to know that they are dealing with a unique wine. Ermes Pavese is located in a northern area of the Valle d'Aoste called Valdigne. This area boasts the highest elevated vineyards in all of Europe, as well as the smallest winemaking region in Italy both in size and production. Due to the elevation, the area of Valdigne has never been plagued by Phylloxera and the vines grow on ungrafted root stock. In this area the main grape variety grown is a white grape called Prie Blanc. The Ermes Pavese Blanc de Morgex et de la Salle is made from 100% Prie Blanc. The color is pale straw with gold tinges. On the nose, dried citrus peel mixes with white flowers, honey and tea leaves. The palate is lifted with a bracing acidity. The wine is lean and linear with tart citrus notes. A great refreshing sipper for the summer weather.
Add to your cart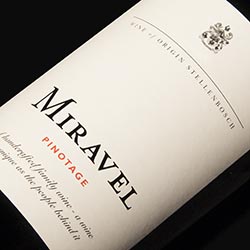 Miravel
Miravel Pinotage 2010
Here is a great wine for all you summer Bar-B-Que lovers, the Miravel Pinotage is a perfect pairing for grilled meats of all kinds! Maarten, the founder of Miravel, was originally a farmer from Zimbabwe – farming everything from fruit, cattle, and even ostriches. Fueled by a passion for the land and wine, Maarten and his wife, Janine, started Miravel. This particular wine is made from 100% Pinotage, a grape created in South Africa. The Pinotage grape is the result of crossbreeding the grapes Pinot Noir and Cinsault (this grape was
called Hermitage in South Africa, hence the "tage" portion of Pinotage). After fermentation, this wine spent 24 months in once-used French oak barrels. The wine overflows with dark fruits and forest floor. It is full-bodied with a tannin structure that suggests aging potential of 8+ years. The balance of fruit, earth, and light oak flavors echo on through the lengthy finish. Only 400 bottles of this wine were made in 2010. Seize your chance to own this gem before it is gone.
Add to your cart