Arboleda and Chateau Calon
Arboleda 2011
Sauvignon Blanc
Eduardo Chadwick founded Arboleda Vineyards in Chile's Aconcagua Valley – sixty-odd miles north of Santiago – in 1999, naming the estate after the trees preserved in their original stands throughout the sustainably managed vineyards. The valley lies mainly on an east-west line, following a meandering course cut by the Aconcagua River from the Andes (its headwaters lie at nearly 5,000 feet in elevation) to the Pacific. The Arboleda Sauvignon Blanc comes from vineyards planted just 7.5 miles from Chile's Pacific coast. This cool, coastal climate allows the grapes to develop slowly, preserving acidity and freshness, while the long, dry growing season adds depth and concentration with plenty of Sauvignon's signature crisp, herbal and citrus notes. Perfect for those who stick to white wines during winter – no matter how cold it gets!
Add to your cart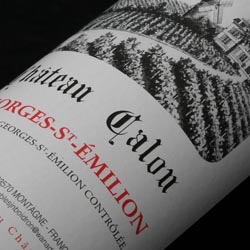 Chateau Calon 2005
Saint Georges-Saint Emilion
We just received this great 2005 vintage from the Saint-Georges-Saint-Emilion appellation of Bordeaux, the smallest of the four satellites of Saint-Emilion. This is a typical right bank blend with 80% Merlot, 10% Cabernet Franc and 10% Cabernet Sauvignon. The wines from the Saint-Emilion region are always Merlot based which gives them a smoothness and roundness on the palate, . We picked this wine as we think it is a great value and is maturing nicely. It is also part of our "exclusives list" which means that we are the only store offering this wine in this particular vintage today. Come and discover it with us!
Add to your cart