Join us, Friday, November 22, from 6:00 to 9:00 when Cassia from Loca Linda Wines, stops by to pour tastes of their delicious Malbec and Torrontes.
Loca Linda
Torrontes 2011
From high-elevation vineyards in the La Rioja region of Argentina, the Torrontes vines for this Loca Linda liter bottle are harvested in two passes – the first an early harvest to add fresh acidity to balance the ripe, soft fruits of the second, later harvest. The wine is the fermented in stainless steel. A delicious, fresh Torrontes, with all of the variety's exotic fruits and floral tones.
Add to your cart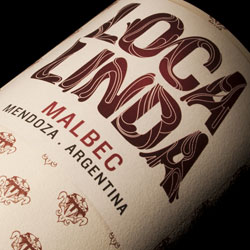 Loca Linda
Malbec 2011
A lush, soft Malbec from vines grown at over 1,000 meters above sea-level, the Loca Linda Malbec makes it easy to see why the variety has quickly become one of the most popular red wine grapes. Partially aged in French oak barrels, the Loca Linda shows gentle spice notes along with a rich, round character and black cherry elements. The liter packaging for both wines means more value (and more wine, of course).
Add to your cart