Join us Thursday, November 7, between 5:00 and 8:00 p.m. when Taso Fragopoulos from River Horse Wine Imports stops by to pour samples of three wines from Stellenbosch, South Africa: Miravel Sauvignon Blanc, Audacia Merlot and Cabernet Sauvignon.
Stellenbosch is located in the Western Cape province of South Africa. Situated not far from the shore of the Atlantic Ocean, the region enjoys a Mediterranean Climate. That, along with it's hilly landscape and surrounding mountain ranges make Stellenbosch perfect for viticulture.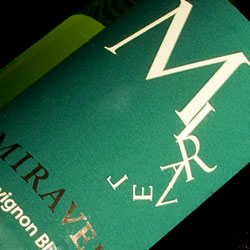 Miravel
Sauvignon Blanc 2011
Coming from a life as a farmer of fruit, cattle, pigs, and ostriches, Maarten Van Beuningen along with his wife Janine have turned their love of wine into a family business. Miravel is quickly becoming one of the more exciting young estates in Stellenbosch. This is evident in the fruit driven, clean and refreshing Miravel Sauvignon Blanc.
Add to your cart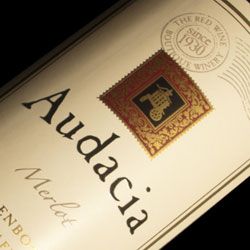 Audacia
Merlot 2010
Audacia Wine Farm received it's name when founder Kosie Louw audaciously went against his father's wishes in 1930 and purchased what was then a piece of the Annandale Farm. The Audacia Merlot is loaded with red fruits and plummy flavors. The well balanced tannin structure gives way to a finish that lingers on.
Add to your cart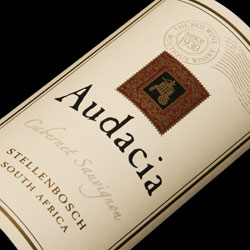 Audacia
Cabernet Sauvignon 2011
Audacia Wine Farm is located in one of the most prime areas for growing red grapes in all of Stellenbosch, nicknamed "The Golden Triangle". It is for this reason Audacia produces only red wines. The
Cabernet Sauvignon shows notes of black currant along with hints of mint and vanilla. Although young, the wine is quite balanced and elegant.
Add to your cart