Join us Tuesday, October 9th, from 5 to 8 p.m. for a tasting of two Chilean wines from Arboleda poured by Carolina Herrera, winemaker for the estate.
[quote]"My inspiration is to produce wine with a unique energy and balance in every sense of the way… given by the passion of all those who work in its production under a sustainable philosophy, reflecting its exceptional origin and therefore obtaining a wine that stands out from the rest given its uniqueness and quality that will be consistent throughout time."- Carolina Herrera[/quote]
About the estate: Eduardo Chadwick founded Arboleda Vineyards in Chile's Aconcagua Valley – sixty-odd miles north of Santiago – in 1999, naming the estate after the trees preserved in their original stands throughout the sustainably managed vineyards. The valley lies mainly on an east-west line, following a meandering course cut by the Aconcagua River from the Andes (its headwaters lie at nearly 5,000 feet in elevation) to the Pacific.
Arboleda
Sauvignon Blanc 2010
The Arboleda Sauvignon Blanc comes from vineyards planted just 7.5 miles from Chile's Pacific coast. This cool, coastal climate allows the grapes to develop slowly, preserving acidity and freshness, while the long, dry growing season adds depth and concentration with plenty of Sauvignon's signature crisp, herbal and citrus notes.
Buy for $16.99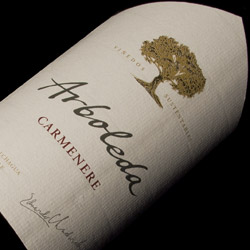 Arboleda
Carmenere 2009
The Carmenere hails from a vineyard in the warmer Colchagua Valley, 120 miles south of Santiago. It shows flavors and aromas of black and blue fruits along with smoky, coffee-like aromas that developed in barrel. The worldwide production of Carmenere, a member of the Cabernet family and originally grown in Bordeaux, though now rarely seen in France, is centered on Chile's inland valleys.
Buy for $19.99