Montevertine 2008
Montevertine is the name the wine, the estate where it is made, and the "hilltop hamlet" in the heart of the Chianti district where the domaine is situated. Montevertine's first vintage was produced by Sergio Manetti in 1971 and little has changed now that the estate is under the administration of his son, Martino. Frequently referred to as a member of the "Super Tuscan" group, the wines of Montevertine are perhaps the philosophical opposite of those in that heterogenous "group." While the Super Tuscans typically rely heavily on "international" grape varieties to craft wines that match their makers' visions, Montevertine is dedicated to tradition – so much so that, rather than incorporate white grapes into the blend (as was once required for Chianti), in 1981 Sergio Manetti parted ways with the Chianti Classico Consortium and denomination, to produce one of the few, authentic examples of what Chianti Classico should be, labeling Montevertine as a humble Vino da Tavola (now IGT), based heavily on old-vine Sangiovese with Canaiolo and small amounts of Colorino – all traditional Tuscan varieties. This is a true benchmark Tuscan wine, miles above the oceans of poor-quality Chianti produced each year. This is one of those rare bottles that anyone who is serious about (or just seriously loves) wine owes it to themselves to try – just remember that it's a young wine, and be sure to show it some air.
Buy Now!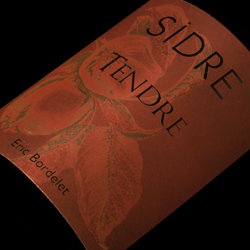 Eric Bordelet Sidre Tendre 2010
It may seem unlikely that an influential sommelier in a three-Michelin-star Parisian restaurant (l'Arpège) would leave the City of Light behind and return to Normandy to tend his family's orchards, but that is exactly what Eric Bordelet did. It took some prodding from the late Didier Dageneau, however. If you know who Dageneau is, then you'll know that this is just cause for one more "Thank you" that we, the drinking folk of the world, owe him; if you don't, we'll cover that another time. Bordelet's orchards contain over thirty different varieties of organically farmed apples (and pears), almost none of which are the type that you'd want to eat, but contain the perfect levels of sugar, acidity, and tannin for making great cider. In fact, cider is traditionally made from apples which are practically inedible. If you've read The Botany of Desire by Michael Pollan, he provides a whole new prospective for the tale of Johnny Appleseed, explaining that orchards planted from seed rarely yield apples which are sweet, and so, if John Chapman was tramping around planting apple trees, those orchards were destined for cider production. In fact, in colonial times and the early 1800s, cider was the primary beverage in early America. Granted, the water wasn't always safe, but if those ciders tasted anything like Bordelet's it's easy to understand their popularity. The Tendre, while labeled nonvintage, is entirely from the 2010 crop. It has a delicious, pure apple flavor with an undercurrent of minerally acidity to offset the barest trace of sweetness. The Tendre is Bordelet's most easy-going cider and it would be tough for me to pick something I'd rather be drinking on a hot (or any other kind of) spring/summer afternoon.
Buy Now!