Join us on Wednesday, August 24th for a chance to try these delicious, crisp whites from two of the top family-owned estates in Austria.

Buchegger "Holzgasse" Grüner Veltliner 2009
Four generations of the Buchegger family have maintained this estate since it began in 1893. The goal for Walter Buchegger is to create wines that are classic representations of their variety, which in the case of Grüner Veltliner means you can expect a crisp wine, with fresh fruit and balancing acidity, and a flash of the grape's trademark peppery note in the finish. Very "food-friendly," this Grüner will complement many different combinations at the table.
Buy Now!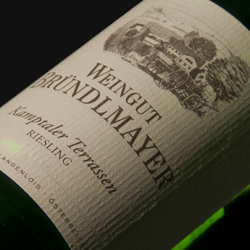 Bründlmayer Kamptaler Terrassen Riesling 2009
Weingut Bründlmayer, located in the Kamptal, is regarded as being among the top estates in Austria. This dry Riesling comes from the steep, terraced hillside vineyards – the differing soil types at each point on the hillside lending additional complexity to the wines they produce. The richer soils at the base of the hills provide the wine enough richness to be expressive early, and the thinner, stonier soils higher on the slope lend more structure and "seriousness."
Buy Now!