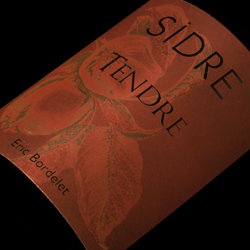 Eric Bordelet
Sidre Tendre Apple Cider
Eric Bordelet, a former Sommelier in Paris, returned to his family's estate in Normandy France in 1992. It was there that one of his close friends, famed wine maker Didier Dageneau, encouraged him to producer cider from the apple and pair orchards located on the estate. Some of these orchards date back as much as 300 years. It was with this idea and encouragement that Eric Bordelet set out to make ciders that would more closely resemble fine vintage wine than beer. Mr Bordelet's orchards are all farmed biodynamically and hand harvested. Once picked, the fruit is dried for 4 to 5 weeks before pressing and fermentation. The elegant nature of his ciders comes from the all natural fermentation which finishes in the bottle, giving way to the soft bubbles in the finished product. Enjoy notes of honeyed fruit and baked apples in this beautiful cider, as an aperitif before your Thanksgiving dinner, or pop a bottle open with your apple pie after dinner. Cheers!
Jean-Louis Chave
Saint Joseph Offerus
The Chave family, based in Northern Rhone, has been growing vines since the late 1400s. Today the tradition of vine growing and wine making continues with Jean Louis Chave. It was Jean Louis' father, Gerard, who helped bring megastar status to the Chave wines due to the extraordinary quality of the wine he was producing. It is in Gerard's footsteps that Jean Louis has followed, elevating the JL Chave wines to benchmark examples of Rhone Valley wine. The Saint Joseph Offerus is both a muscular and elegant expression of Syrah. Hints of wood smoke and spice combine with blackberry and olives along with a subtle floral nuance. The wine is complex and layered and will continue to change and evolve in the glass as it breaths and opens up. Certainly a bottle worthy of the complex flavors of a traditional Thanksgiving dinner. This will pair well with turkey and gravy, stuffing, cranberry sauce, and every other dish that adorns your holiday table.