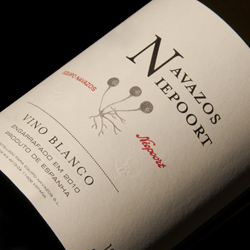 Equipo Navazos Niepoort
Vino Blanco 2011
The Navazos Niepoort Vino Blanco is the brilliant "love child" created by the marriage of famed Sherry (Jerez) bottler Equipo Navazos, and Portugal wine making giant Niepoort. This wine was born from the mutual belief that grape varieties typically used for the production of Sherry, also had the potential to produce remarkable dry, white, non-fortified wines. This wine is made 100% from the grape Palomino Fino, which is more often seen in the production of dry Sherry. When making this wine, the duo took a page out of the book of Sherry production, and aged the wine in large open casks with only the thin veil of a naturally occurring yeast called Flor to protect it from exposure to oxygen. It is for this reason that, much like Sherry, this wine takes on a nutty, almost toffee like character, with salty notes. This flavor profile is the result of some intentional oxidation during the fermentation and aging process. It is similar to the oxidative white wines found in Jura, France. The flavor is unique, and works perfectly with Oysters! While this oxidative style may not be universally appealing, those who love it will be salivating for more by the end of the bottle.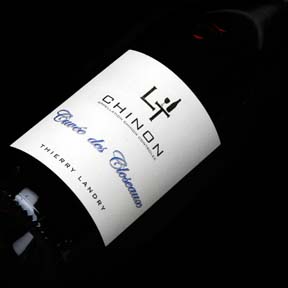 Thierry Landry
Cuvee des Closeaux 2016
This month I continue showcasing red wines that can be chilled so they are nice and refreshing for drinking in the summer heat. Last month I featured a South African wine and an Italian wine, so this month we go to France. More specifically we travel to the Loire Valley, and the appellation of Chinon where the reds are made almost exclusively from the grape Cabernet Franc. Thierry Landry took over their family's small vineyards in 1995 when his father retired. Since that time he has grown their vineyard holdings to a little shy of 20 acres (16.9 hectares). He tends the vineyards Organically, testing the soil every 5 years to ensure the continued health of the land. The Cuvée des Closeaux is aged only in cement and fiberglass in order to retain the pure expression of fruit. While some Cabernet Franc can show green expressions such as bell pepper, this wine is truly about crisp ripe fruit. A hint of herbal notes on the finish give this wine another layer of complexity. This wine works beautifully with lighter meats such as Pork and Chicken, and heavier fish such as Cod or Tuna.