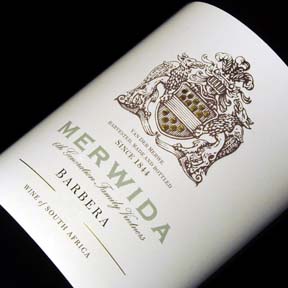 Merwida
Barbera 2013
The Merwida Vineyards were established back in 1840 when Willem Petrus van der Merwe set roots in the Breëde River Valley in Breedekloof, South Africa. The family originally came from Drodrecht in the Netherlands, where they owned a castle next to the Merwede River. The family's roots near the Merwede River as well as the vineyard's roots in the Breëde River Valley are represented by the blue band on the capsule of each bottle. Despite their history of over 100 years of wine-making, innovation is one of the keys to success and delicious wines at Merwida. Employing the latest in viticultural techniques, as well as contemporary technology in the winery, Merwida is constantly striving to make complex wines that show rich fruit character with subtle notes of spice, and soft tannins. In other words, easily drinkable wines! While Barbera isn't a grape you find grown much outside of Piedmont, Italy, the folks at Merwida did a fantastic job of crafting a wine true to Barbera varietal character, while attaining their trademark drink-ability. This wine will work perfectly with your Turkey dinner!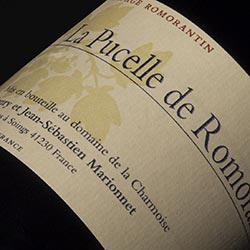 Henry et Jean-Sebastien Marionnet
La Pucelle de Romorantin 2012
The Marionnet family has owned Domaine de la Charmoise since 1850. While excellence was always the focus at Marionnet, it wasn't until the 1960's that Marionnet received recognition for producing truly honest Gamay at a time when most other producers were focusing on quantity over quality. While the estate does produce some of the more recognized Loire varietals such as Gamay, Sauvignon blanc, Chenin Blanc, and Côt (more popularly known in the US as Malbec), they are also making wine from the more rare varietal Romorantin. The La Pucelle de Romorantin is a weighty viscus white wine with citrus flavors and an intense mineral finish. A delicious and unique white that will work well your traditional Thanksgiving fare. If you enjoy this wine and want to really treat yourself in the coming holiday season, try the Marionnet Provignage. This wine is made from 160 year old, pre-phylloxera vines of the romorantin grape. A true gem!!