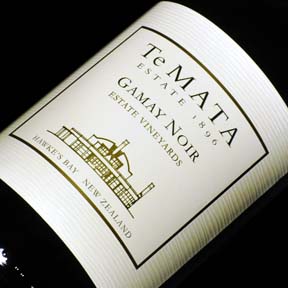 Te Mata
Gamay Noir 2015
Te Mata is an estate winery established in 1896 in the region of Hawke's Bay, New Zealand. Hawke's Bay is located about half way up the Northern Island of New Zealand and lies along the East Coast of the island. What were originally stables at the estate, were converted into a winery in the 1890's by the Chamber's family. This building still serves as the center of the winemaking facilities at Te Mata today. Te Mata Estate was also one of the first vineyards and wineries to be recognized bye the SWNZ (Sustainable Winegrowing New Zealand) program in 1995. This assures that the winery and vineyards aim to reduce any negative impact on the environment. Te Mata's Gamay Noir is a beautiful, light bodied red, perfect for the hot summer weather. Serve this wine slightly chilled and enjoy the fresh cranberry fruit character while cooling down from the summer heat. This is the wine that the winemaker and winery staff prefer to have as their daily drink. Fortunately they are sharing some with us!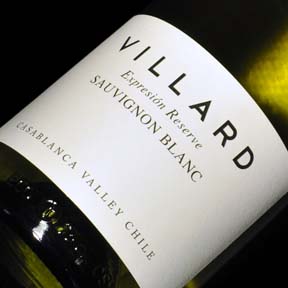 Villard
Sauvignon Blanc Expresion Reserve 2015
Chilé has a long history of viticulture, however many of the wineries are owned by a few large cooperatives and negociants. Thierry Villard decided in 1989 to establish Chilé's first family, premium boutique, wine company. Over the last two decades Villard has become recognized as one of the best producers in the Casablanca Valley. Casablanca Valley, Chilé's premium cool climate viticultural region, is located at the base of the Coastal Mountain Range, between the Pacific Ocean and the city of Santigo. Here the vines and grapes enjoy cool sea breezes which extend their ripening time, making for full flavors and intense aromas in the wine. The Villard Expresión Reserve Sauvignon Blanc displays a complex patchwork of aromas ranging from citrus and flowers to stone fruits such as white peach and apricot. The palate follows through with tropical fruit and refreshing acidity. Perfect as an aperitif or paired with shellfish. Cheers!