Merwida Barbera and Agro de Bazan Granbazan Verde Albarino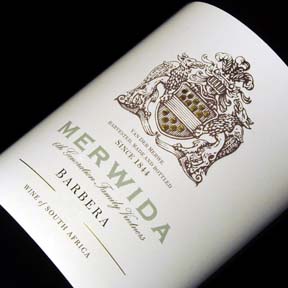 Merwida
Barbera 2013
The Merwida Vineyards were established back in 1840 when Willem Petrus van der Merwe set roots in the Breëde River Valley in Breedekloof, South Africa. The family originally came from Drodrecht in the Netherlands, where they owned a castle next to the Merwede River. The family's roots near the Merwede River as well as the vineyard's roots in the Breëde River Valley are represented by the blue band on the capsule of each bottle. Despite their history of over 100 years of wine-making, innovation is one of the keys to success and delicious wines at Merwida. Employing the latest in viticultural techniques, as well as contemporary technology in the winery, Merwida is constantly striving to make complex wines that show rich fruit character with subtle notes of spice, and soft tannins. In other words, easily drinkable wines! While Barbera isn't a grape you find grown much outside of Piedmont, Italy, the folks at Merwida did a fantastic job of crafting a wine true to Barbera varietal character, while attaining their trademark drink-ability. A light to medium bodies red perfect for the summer!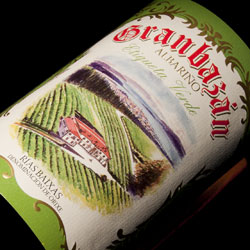 Agro de Bazan
Granbazan Verde Albarino 2013
Established in 1981, Granbazán is a fairly new wine project in Galicia, Spain. Their objective has been to craft excellent wines from the native Albariño grape varietal that would stand up to some of the best white wines produced in the world. While their scientific approach and use of cutting edge technology was met with contradiction by other local growers, Granbazán has continued to raise the bar for Albariño wines out of the region of Rais Baixas. They have pioneered for this area the use of a cold maceration process, as well as making one of the first Albariño wines matured in oak casks. This lightly green hued wine is packed with fresh green apple, citrus, and hints of white flowers. The crisp acidity leaves way to a saline like minerality on the finish. A great pool side sipper!!