Join us alongside Bryhiem Al-Taylor, sales representative for IPO Wines, for a Equipo Navazos Tasting: Pedro Ximenez Ovni, Niepoort Vino Blanco, and Le Bota de Fino #45 Montilla on
Thursday, January 22nd from 5 to 8 PM.
La Bota. For Sherry enthusiasts you needn't say more than those two words and they'll know you're talking about something special. Equipo Navazos began as a group of Sherry lovers "discovering" hidden, untouched casks and soleras in different bodegas throughout the "Sherry Triangle." What began as a pet-project, purchasing and bottling wines essentially for themselves and their friends, has become a source of some of the most sought-after wines in the world. Selecting and bottling individual casks or butts or bota from within a bodega's soleras, Equipo Navazos seek out wines which show something unique and which deserve to be preserved in a separate bottling for their numbered "La bota de . . ." series rather than leave them to be forgotten or blended into the larger bottlings which have come to dominate the Sherry region.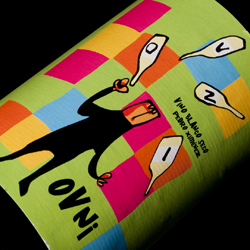 Equipo Navazos began in 2005 when a group of wine lovers, passionate about the wines of Andalusia, set out to find some of the hidden treasures in the cellars of Jerez, Sanlúcar, and El Puerto. In the first couple years, the casks they found and purchased were bottled and kept in the group's private collection. Since 2007 the group decided to begin making a portion of their findings available to the public. While most of the wines under the Equipo Navazos label is Sherry, the group has also found some wonderful dry, non-fortified wines.These are wines produced from the varietals used in Sherry production, making them unique expressions of the chalky soil from which they come. The Ovni is made 100% from the grape Pedro Ximenez. This bright, golden yellow wine displays notes of orange zest, cherry pit, and crushed sea shells on the nose. The palate is weighty with a rich creamy characteristic. Fresh cantaloupe and caramelized pineapple coat the mouth giving way to a dry mineral finish. Truly a unique and delicious wine!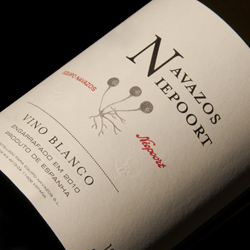 This wine is aged under flor, the layer of yeast that grows atop the wine in under filled barrels which lends Sherry its distinctive nutty flavor, but unlike Sherry it is not fortified, meaning that the alcohol level is in line with that of typical white wines. It shows a rich, nutty flavor along with lemony notes and a salty, apply element. Equipo Navazos, the "team" which are bringing some of the most captivating wines of Jerez to the market, are on the forefront of artisan Sherry, this wine is a nod to the past when the wines of Jerez were not typically fortified if destined for consumption within the region. If you're looking for something different, this is a wine that might even change some assumptions you may have about what wine is; it's that distinctive.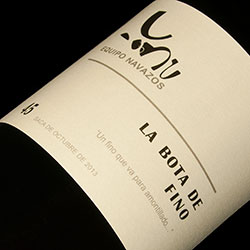 A fascinating wine, savory and elegant, as well as exceptionally versatile on the dinner table! Bottled in June 2013, unfined and virtually unfiltered, its beautiful golden color is the one it exhibits straight from the glass. Telltale notes of early stages of amontillamiento, as well as the concentration of aromas and flavors, evidence its notable age—estimated above 20 years. But there is no question this is still a fino, aged under a fragile layer of flor that time has darkened, weakened, and partly torn into patches.