Join us alongside Michel Abood, sales representative for Vinotas Selections for a Grower Champagne Tasting: Bourgeois Diaz Rose and Brut Distingue on
Monday, December 29th from 5 to 8 PM.
Champagne Bourgeois-Diaz is a tiny family-owned estate farming their own 7 hectares (17.29 acres), scattered in the hills around the town of Crouttes-sur-Marne, west-south-west of Reims. The vineyards are planted on clay and chalk soils, and composed of 55% Pinot Meunier, 30% Pinot Noir and 15% Chardonnay and have a south-west exposition. All the wines are made using a traditional Coquard basket press, with a minimal dosage (5-9g/l for the Brut). 2/3 of the Cuvée Brut Distingué and Brut Rosé is fermented in stainless steel, the balance in barrel. The higher end bottlings see some more barrel ageing.
Jérome Bourgeois, the young winemaker, believes in showcasing his terroirs, and this is evident in the final product, which is both reflective of the high quality fruit he gets and a platform for the land's characteristics.
As of 2009, the winery began treating its lands using biodynamic principles, and was fully certified in 2011.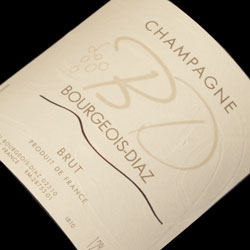 (65% Pinot Meunier, 10% Chardonnay of which 20% is vin de réserve, and 25% Pinot Noir) is a light to medium-bodied, winey bubbly that shows off stone fruit notes backed by earthy minerality with just a hint of oxidation from its time spent in barrel.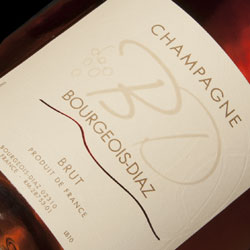 Champagne Bourgeois-Diaz Rosé Distingué is an assemblage Rosé of 25% Pinot Meunier, 35% Chardonnay and 40% Pinot Noir, of which 12% is AOC Champagne still red wine. Medium-bodied, it offers bright, cakey red berry notes backed by lively acidity and minerality.