Over 70 years ago Mamete Prevostini began making wine to serve in the family eatery, Restaurant Crotasc. Based in Italy's distinctive Valtellina regio, Mamete sourced grapes locally.  Located in northern Lombardy, the stone-walled terrace vineyards of Valtellina are planted on the mountainous border between Italy and Switzerland. Despite a rich viticultural history that dates to the 8th or 9th Century, in the last 30 years many of the Nebbiolo, locally called Chiavennasca, vineyards in this inimitable region have been uprooted or abandoned. Thankfully, Mamete's grandson, also called Mamete, inherited the wine making operation in 1988 and was unwilling to give up on this unusually challenging and rewarding terroir.
After almost a decade of agricultural and viticultural experimentation, Mamete released his first commercially available vintage in 1995. Since that time, he has continued to develop and expand not only his personal reputation, but that of the entire Valtellina region. Due to steep slopes and narrow terraces, Mamete is limited (to the benefit of the wine) to hand maintenance in the vineyards. In his newly updated cellars, he takes advantage of the acidic granite soils, which creates hydric stress for the vines, to produce distinct wines – each with its own unique character. Altitude and a large diurnal range provide a distinct freshness to the character of the fruit, an aspect Mamete enhances with careful vinification. Blending tradition and modern technique, the wines are aged in the natural crottos, or caves, built into the mountain side. Elegant and refined with jewel-toned colors, perfumed aromatics and delicious balance, the wines of Mamete Prevostini have not only become a critical success, but a favorite with wine enthusiasts and amateurs alike.
Botonero 2011
Sommarovina Sassella 2009
Sommarovina Sassella 2010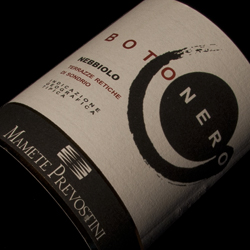 Made of 100% Nebbiolo macerated, fermented and aged in stainless steel tanks, this wine is bright and fruity. Fragrant, crisp and clean, this ruby red wine delivers notes of violets, red cherry and a hint of earthiness. Soft and approachable without the harsh tannins found in many young Nebbiolos, this wine pairs well with red meat and strong cheeses.
Left to macerate on its skins and aged in oak, this Nebbiolo is bright and crisp. Ruby in color with a lighter robe than a Barolo or Barbaresco, this wine nonetheless remains long in the finish and complex on the palate. The nose delivers delicate notes of soft florals, sweet herbs and red berries.
Similar in style to the 2009, this Nebbiolo was also left on its skins for maceration and was aged in oak for greater complexity and aromatic depth. Medium-bodied and lasting, the body delivers lingering notes of licorice and almond highlighted with notes of raspberry and rose.