Archeological evidence shows that the Greek island of Santorini has been home to viticultural efforts since the 17th Century BC. Home to over 53 indigenous varieties of grapes, this region's modern wine making dates back over 3000 years to 1200 BC. Forming the economic, social and cultural heart of the Island, the winemaking efforts here are blessed by vines that remain untouched by phylloxera, scourge of European vines. It was into this rich heritage that Domaine Sigalas was founded on the Oia plane, near the village of Baxendes, in 1991. A partnership between three wine enthusiasts, the wines were originally produced at the Sigalas family home. Today, however, the company produces its wines in a privately held facility constructed in 1998 and the partners remain dedicated to continuous modernization.
A pioneer in organic viticulture, this estate is dedicated to not only embracing indigenous varietals but preserving them. A traditional planting and vineyard renewal method known as kataboladi is employed to maintain the old vines in the vineyards. In this method, dead vines are removed, stems from neighboring vines are planted in its place and new plants are generated from their neighboring counterparts. The estate even embraces two traditional pruning methods: giristi and kouloun. The giristi method, in which new buds are woven into a "wreath" with old stalks, protects the vines from the strong winds.  In the second method, also called klad, the vines are twisted into a circle that stands almost perpendicular to the ground.
The island's volcanic soils not only provide good drainage but also imbue the grapes with stunning minerality. The Mediterranean climate delivers mild winters and hot summers tempered by strong Northerly winds and pousi, nighttime mist resulting from extreme humidity.  These conditions are ideal for the multitude of indigenous grapes, including the dominant Assyrtiko and Mandilaria. Assyrtiko is the most widely planted grape on the island, comprising 80% of white grape plantings, which comprise 80% of the total grape harvest. Mineral, with pronounced acidity and a firm structure, these wines are stunning and distinctive. Manilaria, the most highly planted indigenous red wine, approximately 20% of plantings, is used to produce a traditional sun-dried sweet wine. Blending a creative relationship with tradition, technical savvy and a dedication to quality, Domaine Sigalas produces stunning wines from this unique terroir and these interesting indigenous grapes.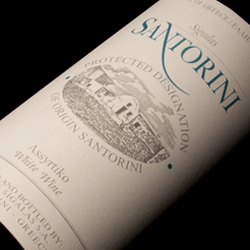 92 Points, Robert Parker. Made from 100% Assyrtiko grapes this dry white wine is fermented in stainless steel tanks. A lovely straw color with green undertones, this wine yields a nose dominated by citrus fruit. With an excellent structure, amazing depth of flavor and a stunningly long finish the bright acidity highlights the strength of the fruit and the wine's freshness. Characteristic minerality pairs well with fish and white meat. A beautiful wine and a great value this wine can be aged for greater characteristic expression.