The son of a vineyard worker, Jacques Puffeney began making wine at age 17. But for many years as he worked to develop his reputation and expand his holdings, he supported himself as a cheese maker. Today known as the "Pope of Arbois," Jacques Puffeney is acknowledged as the most prestigious, engaging and easily recognizable winemaker, due to his rotund physique and ample white beard, in the Jura region.  Located in Eastern France, between Burgundy and the Swiss border, Jura is truly unique. Celebrated for its "vin jaune," or yellow wine, an oxidative dry white wine often compared to sherry, and "vin de paille," a sweet wine made from dried grapes, the Jura region is rapidly gaining reputation for the quality and character of all its wines.
A biodynamic farmer, Puffeney credits his father with planting the vines that have nourished his reputation. Puffeney produces wines that are edgy and lively from traditional Jura varietals like Savagnin Blanc, not to be confused with Sauvignon Blanc, and Poulsard as well as international varietals like Chardonnay. Unfiltered and unfined, aged for extended periods, the Domaine Jacques Puffeney wines are full of finesse, elegance and unmistakable quality.
Savagnin 2008
Poulsard "M" 2010
A traditional Jura varietal, this wine is fermented in a mix of steel and wood, before being allowed to rest in traditional wooden foudres, or barrels. The wine is allowed to rest without topping-up, thus developing the characteristic oxidative flavors of Jura whites. With characteristic notes of toasted nuts, fruit pits and citrus highlights, this wine is defined by its sleek texture. The underlying richness is defined by the intense, oxidative and almost salty palate that demands pairing with food. Try with a juicy roast chicken and rich, earthy mushrooms.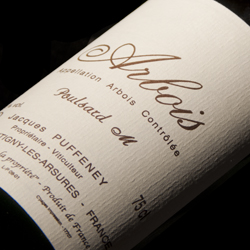 The "M" cuvee is a special bottling of this traditional Jura red wine. Produced from a vineyard located in Puffeney's hometown of Montigny-les-Arsures, this wine is notable for its firm tannins and long, constantly changing finish. The earthy nose has mineral hints supplemented by spices like black pepper. The palate opens with time to deliver cranberries, soft florals and intriguing notes of radish.