Originally growing Chardonnay, Merlot and Cabernet Sauvignon at a Sonoma property purchased in 1989, Ron Melville today is known for producing excellent Pinot Noir, Chardonnay, Syrah and Viognier. Searching for greater distinction and a unique challenge, Ron founded Melville Vineyards & Winery in 1996 with over 80 acres of prime terroir in the Santa Rita Hills appellation of California's Santa Barbara County. Today working with his sons Chad and Brent, who manage the vineyards, and winemaker Greg Brewer, of Brewer-Clifton fame, Melville produces stunning and unique wines that reflect the stunning and unique terroir as well as Northern Rhone Valley inspiration.
The Santa Rita Hills AVA is closer to the equator than any other fine wine appellation in the world. However, geographic positioning and relative heat are mitigated by cooling marine influences, creating a distinct microclimate. On a peninsula, surrounded by water on three sides, the Santa Rita Hills vineyards are cooled by morning and evening fog with predominant afternoon winds. With soils composed primarily of clay and sand, benefiting from both good drainage and water retention, this is an ideal location for growing finicky grapes like Pinot Noir. The prolonged growing season provides greater intensity for wines of uncommon typicity. Wholeheartedly embracing this terroir and microclimate the Melville Vineyard & Winery produces critically acclaimed and exquisite wines.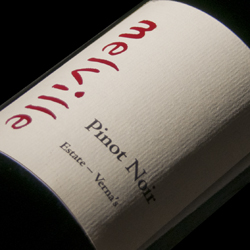 Located in Los Alamos, this vineyard produces spectacular Pinot Noir grapes. One-third of the wine undergoes whole-cluster fermentation before the entire batch is aged for ten months in neutral French oak. Vibrant magenta in color this wine delivers a rich aromatic bouquet of soft florals (gardenia, white lily and rosehip oil) and spicy, earthy notes (thyme, pine nuts, eucalyptus). The rich ripe fruit yields notes of spectacular and exotic red fruits (pomegranate, blood orange and dried cranberry) on a bright, soft and satisfying palate.