P
lease join us
Tuesday April 29th from 5-7 pm
  for a Bordeaux tasting of 2008 Chateau Fombrauge and 2010 Chateau les Grands Chenes with Bernard Magrez Director of Development, Augustin Deschamps. 
One of Bernard Magrez' four Grand Crus Classé estates, Chateau Fombrauge in St. Emillion was acquired in 1999 and obtained its classification in 2012, after extensive investment and renovation. One of the largest estates in St. Emillion, this estate has a rich history that dates to the 16th Century and the 100 Years War. A pioneer in the development of the great wines of Saint Emillion, Chateau Fombrauge is today celebrated for its consistent and high-quality wines.
This traditional Bordeaux blend, 77% Merlot, 9% Cabernet Sauvignon and 1% Cabernet Franc, is truly representative of St. Emilion. A deep and rich color this medium-bodied wine is pure and elegant. With a spicy and full nose, harmonious fruit expression and a smooth-round mouthfeel this modern wine has a solid core perfect for enjoying with a meal.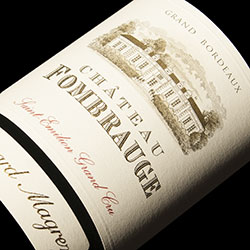 Chateau Fombrauge 2008
$39.99 per unit (750 ml Bottle)
Available at Millesima-usa.com
Add to your Cart
This 12 hectare, 29.5 acres, estate in the northernmost Medoc also has a rich history that dates to the 16th Century. A quality cru bourgeois wine producer since 1880, today this estate is celebrated for its smooth, drinkable and quality wines. Often considered better than local classified growths, the wines are carefully vinified with hand harvesting, sorting and punching-down. Cold maturation, contacted with the lees and extended aging produces wines of character and depth.
A classic representation of the Medoc, this blend of 70% Merlot, 29% Cabernet Sauvignon and 1% Cabernet Franc is ripe with strong tannins, soft flavors and a medium-bodied finish. With heavy but pleasing fruitiness this wine, with notes of black currant, cherry, coffee bean and vanilla, is delicious, round and seductive.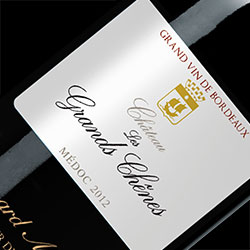 Chateau Les Grands Chênes 2010
$34.99 per unit (750 ml Bottle)
Available at Millesima-usa.com
Add to your Cart
Bernard Magrez: A Bordelais Entrepreneur
A self-made man, Bordeaux native Bernard Magrez has become one of the region's most important owners. Beginning his career with spirits company William Pitters, he began collecting quality estates both in Bordeaux and around the world. Today, as one of the biggest wine magnates in the world, he owns over three dozen estates in nine countries, including unusual choices such as Japan, Morocco and Uruguay. Working with famed consultant Michel Rolland, a partnership that dates back over 20 years, Magrez has built a reputation for quality based on his "micro-cuvées."