At the untimely death of her husband François Clicquot in 1805, Barbe Nicole Clicquot Ponsardin, aged just 27 years old, became the "Veuve" or Widow Clicquot and inherited her husbands's Champagne house "La Maison Clicquot." Instead of fading into the background, she chose to take charge of the business – a truly unprecedented decision. Equipped with great talent, Madame Clicquot's force of character and keen business sense became renowned in the world of Champagne and created the legend of the iconic Veuve Clicquot. The House of Veuve Clicquot has retained this taste for innovation as evidenced by its ever more inventive yearly changes in packaging.
The prestige cuvée: La Grande Dame
La Grande Dame stands proudly as the consummate cuvée of the house and is produced from only the finest Grand Cru vineyard plots of Veuve Clicquot. Cleverly combining two varieties of the iconic Champagne region, Pinot Noir and Chardonnay, La Grande Dame is the result of a perfect balance between power and elegance, showing freshness, great character, and delicacy. Each wine is then aged patiently for at least 6 years in the depths of the Crayères (chalk cellars), thereby allowing the time for its splendor to be revealed. With its personality and uniqueness, La Grande Dame gives the House of Veuve Clicquot its quintessential style.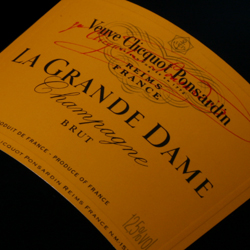 A blend of 69% Pinot Noir and 31% Chardonnay, La Grande Dame 2004 is characterized by a stunning clarity and a lace-like structure. Its pale robe is pierced by hints of light jade, while its complex bouquet caresses the nose. One first detects hints of white flowers, honey, and nuts followed by marzipan and faint, yet tantalizing hints of wild strawberry. One revels in the elegant minerality and delights in the notes of fruit, spice, and oak as an extremely fine effervesce dances on the palate. This well balanced champagne is breathtaking, and will captivate you with each sip.
© 2014 Millesima