Luyt Trequilemu and La Salette Amarone Della Valpolicella La Marega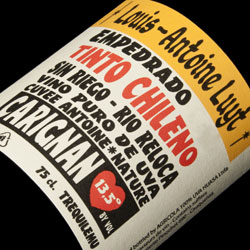 Louis-Antoine Luyt
Carignan Trequilemu 2012
Winemaker Louis-Antoine Luyt, originally from Burgundy, France, is crafting this 100% Carignan in a terroir-driven, very French fashion. To accomplish this Luyt employs techniques such as organic vine tending, dry farming, hand harvesting, and horse drawn plows in the vineyards as well as carbonic maceration and the use of neutral oak in the winery. Another key to this wine's signature style is the use of 70 year old vines. Chile is one of the few contries never affected by the vine bug Phylloxera, so these old vines are still on their original root stock. The result is a wine with earth and minerality balanced by ripe red fruits, soft tannins, and enough acidity to keep it light and refreshing on the palate. This is definitely a great wine for pairing with food of all different kinds. While it is Chilean in origin, this wine is far from what one typically expects from a Chilean wine. Luyt certianly accomplished his goal in crafting a truly elegant terroir driven wine. If you are the type of wine drinker that seldom strays from something French, give this wine a try!
Add to your cart
La Salette Amarone Della Valpolicella
La Marega 2008
Amarone happens to be one of my favorite wines this time of year. With its richly intense flavors of sweet dried fruits and spice, to me, this wine is like the holidays in a bottle. The thing that makes Amarone so special and so different from almost any other wine is the process by which they make it. Once the grapes for this wine are harvested they are laid out on drying tables, in a well ventilated area for five months. At the end of this drying period the grapes are ready to be pressed into wine. This special treatment of the grapes makes for a wine rich in dried fruit flavors such as fig and prune. While this drying process does concentrate the sugars in the grapes, the wine is still fermented dry, resulting in a wine that is a degree or two higher in alcohol than a typical wine. However the intense fruit in this wine keeps it from being out of balance. While this wine will continue to mature and develop over the next ten years, it is delicious for immediate drinking as well.
Add to your cart