Join us Friday, September 6, from 5:00 to 8:00 p.m. for a chance to taste a pair of exciting spirits from Greenhook Ginsmiths: Gin and Beach Plum Liqueur.
[quote]Greenhook Ginsmiths – a reference to the Dutch name for Greenpoint, Brooklyn, highlighting the connection between New York and New Amsterdam and between English Gin and Dutch Genever – founded by New York born and bred owner/operator Steven DeAngelo opened their doors last year to become something of a sensation on the local spirits/cocktail scene.[/quote]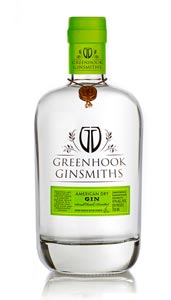 Greenhook Ginsmiths Gin
Steven crafts his gin – classified as an "American Dry" – in a custom copper alembic still which functions under a vacuum. Distilling under vacuum allows him to operate the still at significantly cooler temperatures than is typical, resulting in a cleaner, fresher style, and greater purity in the flavors of the botanicals – which include Tucan juniper, chamomile, elderflower, Ceylon cinnamon (which really shines here), and blue ginger. A delicious, spicy and floral gin.

Greenhook Ginsmiths Beach Plum Liqueur
This is the Brooklyn-based Ginsmiths' take on a classic sloe gin, typically made with European Sloe berries, but utilizing a related, and locally indigenous fruit. Soaking Long Island beach plums in their classic gin formula and adding a touch of Turbinado sugar, this liqueur makes a great addition to a variety of cocktails and is fully capable of playing the lead role as well. Produced in small batches without the addition of preservatives, this is a delicious and inventive spirit.