Cantina di Mogoro il Nuraghe and Domaine Skouras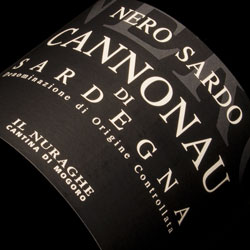 Cantina di Mogoro il Nuraghe
Nero Sardo 2011
Nothing says summer like the Mediterranean! This month we travel to the island of Sardinia (Italian, even though it's closest neighbor is the French island of Corsica). The grape in the Nero Sardo (translated to "Black Sardinian") is the Sardinian variety Cannonau (a close relative to Grenache, found in Spain and Southern France). This wine is medium in body with great freshness of fruit (this freshness comes from the use of stainless steel instead of wood barrels for fermentation). Notes of black cherries and wild berries mingle with licorice and sage. The soft tannins and balanced acidity in this wine make it very drinkable without any need for decanting or further aging. Some delicious pairings for this wine are grilled sausages and lamb, or pasta with oxtail ragu. As if all of that isn't enough reason to take a bottle home, it was pointed out to me that Sardinia has 50 times the number of people who live to be 100+ years old as compared to the US. Many of the locals contribute this to drinking a daily glass of Cannonau. Cheers to a long and happy life!
Buy Now!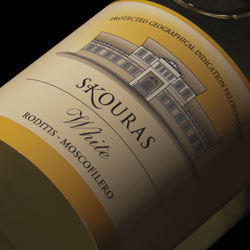 Domaine Skouras 2011
Skouras "White" 2011
If you hadn't noticed from any of my previous picks of the month, I love opening up people's minds and palates to new and interesting things. After all, there is a BIG world of wine out there and it would be a shame to miss out on any of it. This month we'll explore Greece, one of the oldest wine making regions in the world. Greece grows many native grape varieties, which can be pretty serious tongue twisters when it comes to pronounciation. This wine, from the Skouras winery, is a blend of Moscofilero and Roditis. A crisp and light white wine with a mineral, saline like quality, and refreshing, light citrus notes. The bright but not overbearing acidity leaves you salivating for more after each sip. I'm sure we all wish we had the opportunity to relax in the sun along one of Greece's beaches this summer. A much more attainable alternative is to get yourself a cold shellfish platter, a bottle of this wine, and relax in the summer sun (for that authentic Greek landscape, paint all the buildings in your field of vision white, just don't tell your neighbors it was my idea).
Buy Now!