Now that Summer is here (Friday!), Rum drinks are starting to sound mighty refreshing. To that end we've arranged another tasting of Agricole Rhums tomorrow, Wednesday, June 19, between 5:00 and 8:00 p.m.: Rhum Clément and Rhum JM Blanc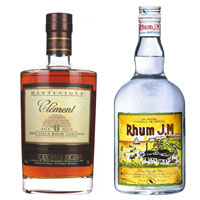 Martinique is the only island in the Caribbean which can produce AOC Rhum Agricole – rums pressed from 100% sugar cane (never molasses) and subject to rigorous standards of production. Rums distilled from cane are prized for the clarity of their flavors and greater complexity – rums made for both mixing and sipping, these can be treated like and stand up against some of the world's best whiskies and Cognac. Rhum Clement and J.M. offer two different sides of the Agricole coin: JM grows their cane in the volcanic soils on the north coast of Martinique, whereas Clement (credited with beginning the tradition of distilling directly from cane as opposed to molasses) hails from the south-east of the island – these differences matter: Agricoles are rums of terroir.
We'll highlight two different styles of Agricole: Blanc or unaged, and Vieux or aged. The JM Blanc is all about the spicy, grassy, floral notes of the cane from which it was pressed – cane grown in smoky, volcanic soils on Martinique's northern shores, while the Clement 6 Year, shows a complex, layered nose more reminiscent of Cognac than it is of typical rums thanks to its long aging in barrel. We'll also be showing Clement's Creole Shrub, a blend of white and aged rums and cane syrup infused with dried orange peel, spices – consider it a delicious, less syrupy, and "fresher" alternative to Grand Marnier – a great addition to any number of Caribbean-style cocktails, but what has made it a favorite of bartenders is its versatility, blending with spirits from across the globe.