The weather the last few days has had us torn between playing hooky to take afternoon naps in Central Park or opening up some bottles of Rosé. Tonight (Wednesday March 21st), we're going to go with the Rosé. These wines – two of our perennial favorites – are the first 2011 Provençal Rosé to arrive this year, and it's time for their debut.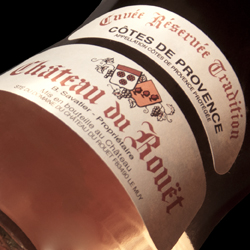 Chateau du Rouët
Cuvée Reservée Tradition 2011
This salmon-colored rosé, easily recognized by its hourglass bottle, comes from the commune of Le Muy in Provence. A blend of 60% Grenache, 20% Syrah, and 20% Cinsault this rosé offers aromas of raspberries and strawberries and has a lively palate full of fresh fruit flavors and a stoney, mineral backbone.
Buy for $13.99