2010 Bordeaux Vintage Reports by Appellation
2010 Bordeaux Vintage Reports by Appellation
The Rosso di Montalcino DOC was created in 1984 in the area made famous by Brunello to allow wine producers to make high quality young wine made from 100% Sangiovese to sell while their brunelli lay aging in barrels. Lo Scorno is aged 6 months in oak and bottle for one year before release resulting in a balanced wine with cherries, spice and mellow tannins. Enjoy with your cacciatore and marsala dishes!
Buy Now!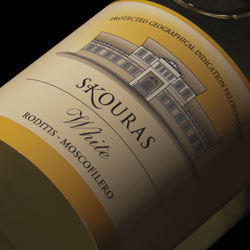 Domaine Skouras White
Greece 2010
George Skouras is from Argos, Peleponese and studied wine making in Dijon, France. He has become one of the foremost wine makers in Greece. This delightful and inexpensive white is made from 60% Roditis and 40% Moscofilero. It is stainless steel fermented (no oak) and has a fresh, bright acidity with hints of peach and tangerine.
Get out the fish for this one, perhaps even some ceviche. Opa!
Buy Now!