Join us on Wednesday, February 29th from 5 pm to 8 pm at our store for a tasting of Bordeaux from the 2009 vintage.
Situated in Pessac-Leognan, south of the city of Bordeaux, the Domaine de Chevalier is one of the region's most renowned estates – a result of unique terroir and strict selection in the vineyards and cellar. As is typical of Graves chateaux, the Domaine produces both red and white wine, though Chevalier's uniqueness lies in the uncommon sophistication and age-worthiness of their wines – red and white alike.
Since 1986, the Domaine has produced a "second wine" called Esprit de Chevalier, crafted from young vines situated in the same vineyards which produce the Grand Vin. Domaine de Chevalier explains that, "made from young vines . . . Esprit de Chevalier must nevertheless be complex, well-balanced, well-structured, and, above all, elegant enough to be in keeping with Chevalier's image."
Both Esprit rouge and blanc share many of the qualities of the "first" wines, the Grand Vin, with the main difference being that they are so much more accessible in youth.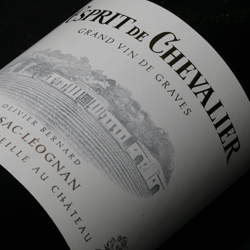 Esprit de Chevalier 2009
Bordeaux Graves White
Buy for $25.99