2010 Bordeaux Vintage Reports by Appellation
2010 Bordeaux Vintage Reports by Appellation
We found this delicious Saint Aubin, we just couldn't find the picture of its label. Saint Aubin is an authentic Burgundian village that borders the vineyards of Meursault, Puligny, and Chassagne, and while it may not enjoy the fame of those neighbors, in a vintage like 2009, it certainly deserves to. Chardonnay from that grape's home, this has richness and minerality. Great with scallops or white fish in cream sauce. – Hortense
Buy Now!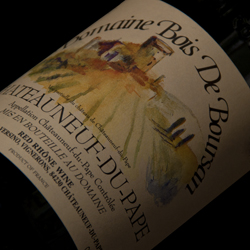 Domaine Bois de Boursan Chateauneuf-du-Pape 2007
Founded by Jean Versino in 1955 and now administered by his son, Jean-Paul, the Bois de Boursan domaine takes its name from the lieu-dit where the family resides, just outside the center of Chateauneuf-du-Pape. A combination of old vines and traditional techniques – longer fermentations, larger barrels or vats – makes for a concentrated, long-lived "Chateauneuf" – wines which take their name from the period of the "Avignon Popes" following Clement V's move to southern France. – Hortense
Buy Now!